Adoption of Minor by Grandparent
by Carmen from Tampa, Florida, Hillsborough County
What Florida form would be needed to petition for adoption of grandson?


Biological mother and father have consented to give up parental rights.
Answer to Adoption of Grandchild Question
Dear Carmen,
Unfortunately, Florida does not have an approved form for Grandparent Adoption.
However, you can utilize the stepparent adoption procedure to successfully adopt your grandchild.
Have a look at our
Florida Grandparent Adoption
page
for more information.
If you decide not to adopt, there are several things you can do and there are many organizations where you can find some help.
It is a good idea as the caregiver to get certain rights established under law for the sake of the minor child.
Take a look at the Resources section below for groups and resources in Florida that may be better able to help you.
Florida state laws you should review
State Laws change and are subject to different interpretations. These general descriptions are not intended as legal advice in any particular situation.
Medical Consent
FL Stat. ch. 743.0645
Allows relative to consent to medical care on behalf of a child after provider has made reasonable attempt to contact parent or guardian and if the parent or guardian has not given notice that they oppose the treatment.
Standby Guardianship
FL Stat. ch. 744.304
Allows guardian to be temporarily appointed by the court with consent of the parents. Standby guardian assumes duties upon death or incapacitation of last surviving parent.
Relative Caregiver Program
FL Stat.ch.

39.5085
Eligibility requirements for the Relative Caregiver Program, which provides financial assistance to kinship caregivers.
Have a look at our
Grandparent Adoptions
page for a comprehensive guide on adoptions of grandchildren by grandparents.
Florida Grandparent Resources
Fact Sheets for Grandparents & Other Relatives Raising Children
Florida State Courts Family Law Forms Page
Grandparents Raising Grandchildren:
-- Part 1 Understanding Relationships
Grandparents Raising Grandchildren:
-- Part 2 Building Relationships
Temporary Custody by Extended Family
Legal Advice and Florida Court Forms
Notice: We provide these answers to the general public and our website visitors as a means to further their online legal research. These answers are merely suggestions and should not be regarded as legal advice.
If you need legal advice, we recommend LagalMatch's Lawyer Referral Service. Many lawyers offer free initial consultations. Get the legal advice you deserve.
---
Florida Court Forms' Petition Preparer Service
Your legal documents ready to file at a price you can afford!
---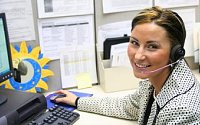 (800) 868-3010
Our Petition Preparer Service can have all your documents professionally prepared after a brief interview with our trained Florida Legal Document Specialists.
Your court papers will be in your hands and ready to file at the courthouse in as little as three days! We guarantee our work. Just ask us for a quote.

---
Answer provided by Kenneth Diaz, (800) 868-3010, Florida Court Forms © 2015
Kenneth has been a Florida Legal Document Preparer since 1998. Currently, he publishes and writes content for legal websites and does freelance paralegal work.

---