Florida Child Support
Child Support in Florida: Laws and Forms
Florida Child Support: Whether you are going through a divorce, breaking up with your partner, or are just trying to enforce an existing child support order in Florida, there are court forms and procedures in place to assist you as a Pro Se litigant.
We have put together all the information our customers have asked for in this child support section, including the most important forms with filing instructions and procedures in Florida.
This page is our guide for finding general information about Florida Child Support and Child Support Forms in Florida.
For a more detailed look at all Florida court approved forms relating to Child Support, have a look at our Florida Child Support Forms page. Or just use our custom search tool...

Also included on this page is information and resources, child support calculators, guidelines, forms and instructions, child support laws, and how to change an existing support order.
There's information about filing for an income deduction order and establishing child support for unwed parents.
You will also find Florida's new disestablishment of child support procedure, several child support question and answer (FAQ) pages, and other child support forms.
We also include the court procedures on how to file and follow up with the Department of Revenue and much more.
Child Support & Legal Advice
The information contained here is for informational purposes only. We have invested time and effort in verifying and providing the most current information and forms for you to use.
There's no substitute for good legal counsel. Legal situations and questions can pop up without notice and any one of these situations could become a serious problem.
If you need legal advice, we recommend LagalMatch's Lawyer Referral Service. Many lawyers offer free initial consultations. Get the legal advice you deserve.


How Is Child Support Determined in Florida?
Florida Child Support Guidelines
Florida's Child Support Guidelines exist to provide some uniformity state-wide when child support is determined by a court, and as a guide for out of court child support agreements by consenting parents.
Florida child support guidelines also provides that child support should continue until the age of 18 or beyond the age of 18 if...
...dependency is because of a mental or physical incapacity which began prior to such person reaching majority or if the person is dependent in fact, is between the ages of 18 and 19, and is still in high school, performing in good faith with a reasonable expectation of graduation before the age of 19.
In other words, child support should continue if the child is dependent for support and they are already 18 years old but they have not yet graduated high school.
At age nineteen, child support is not obligatory unless the child is physically or mentally handicapped. Florida Child Support Guidelines is covered under Florida Statutes Chapter 61.30.
How Florida Child Support Amounts Are Determined
Establishing Child Support in Florida
Establishment of Child Support
When unmarried parents are involved, it is essential that paternity is established before child support can be ordered and enforced. There are several ways that paternity can be legally established.
The voluntary signing of the child's birth certificate at the hospital is the most common way for the legal establishment of paternity in Florida.
Another way to establish paternity is to have the court order scientific paternity testing. This procedure is handled through the Petition to Determine Paternity and for Related Relief (see below).
Once Paternity is established (through scientific paternity testing if necessary) then the "Other Relief" part of this petition can include the establishment of child support as well as time sharing and parental responsibility.

Have a look at our Florida Petition to Determine Paternity & Other Relief web-powered instructions page. These pages are very popular with Pro Se filers mostly because of the hyperlinks to the supporting forms and to the applicable Florida statutes. 
Calculating Florida Child Support
Florida Child Support Calculation
Child support is generally calculated by several factors; the most important of which includes the incomes of both parents, the number of children, the time-sharing percentage and the Florida child support guidelines.
Other factors, such as costs for medication, extra-curricular activities, child care, special needs, medical devices, educational expenses, health insurance, costs of living and transportation, and costs of visitation can all be considered when child support is sought and awarded.
Florida Child Support Calculator
You can use Florida attorney, Steven A. Leitman's Child Support Calculator on his website
here
.
Changing Child Support Orders
Modification of Child Support
A court can reduce, increase, suspend, or stop your child support payments if there has been a "substantial change" in your circumstances after the court ordered you to pay.
A substantial change in circumstances is anything affecting your income or the child's need to receive child support.
For example, if you lose your job; your employer cuts your salary; you have a dramatic increase in expenses; a prolonged illness; the children become adults (emancipated); the time-sharing or custody arrangement has changed, etc.
One or more of these kind of events may be considered as a "substantial change" of circumstances that can qualify for a change in child support.

Modifying an existing child support order is generally done by using a Supplemental Petition to Modify Child Support, Form 12.905(b). We also have a comprehensive self help guide covering child support modifications. See link below.

Collecting Child Support in Florida
Collection and Enforcement of Child Support
Child support can be enforced using an Income Deduction Order. If a noncustodial parent is working, the law requires that the employer deduct support payments from the parent's paycheck.
The income deduction order follows the noncustodial parent to each job in any state. It is the noncustodial parent's responsibility to inform the Child Support Enforcement Program and the court each time he or she changes jobs.
The Department of Revenue is the state agency responsible for Florida's Child Support Enforcement Program.
The DOR can locate noncustodial parents, establish paternity, get support orders andenforce support orders.

Have a look at our Florida Income Deduction Order FAQ Page for more information and answers to frequently asked questions about Income Deduction Orders and collecting child support in Florida.

Disestablishing Child Support & Paternity
Disestablishment of Paternity
Florida Statute 742.18, Disestablishment of Paternity or Termination of Child Support Obligation handles the unfortunate scenario where paternity was wrongly established.
Some of the circumstances where a wrongly accused father can petition the court to disestablish (stop or reverse) paternity include:
• Newly discovered evidence relating to the paternity of the child has come to the petitioner's knowledge since the initial paternity determination or establishment of child support obligation.
• The alleged father must also present scientific evidence that disputes his paternity; or if he has no access to the child for a scientific test of the child; then he must request the court to order a scientific test of the child.
• He must be current on his child support payments. And he must not have signed an acknowledgment of paternity after he discovered he was not the father; he must not have married the mother; he must not have adopted the child.
• The child may not have been conceived by artificial insemination while the alleged father was married to the mother; the child is younger than eighteen.

Have a look at our Florida Disestablishment of Paternity Page for more information about disestablishment of paternity in Florida.


Also see these Florida child support pages...

---
Self Help Guides

---
Modifying Child Support in Florida

Complete Guide to Changing Your Child Support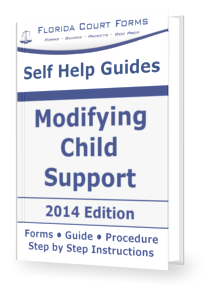 The Self Help Guides' Modifying Child Support in Florida helps you navigate the court process and procedures once you file your documents with easy to follow checklists, links to websites, important addresses & phone numbers, and much more.
Read more...
---
Self Help Guides

---
Terminate Child Support & Alimony

Forms Packet for an Order to Terminate Support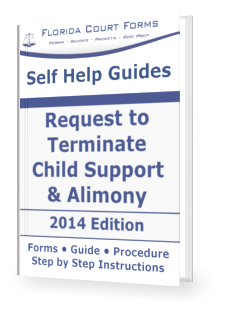 The Florida Court Forms Self Help Fully Interactive & Complete Forms Packet for Request to Terminate Child Support or Alimony. All forms are interactive and properly formatted in PDF and includes a filing procedure, links to websites, important addresses & phone numbers, and much more.
Read more...
---
Legal Documents Preparation Services

---
Florida Court Forms' Petition Preparer Service
Your legal documents ready to file at a price you can afford!

Our Petition Preparer Documents Service can have all your documents professionally prepared after a brief interview with our trained Florida Legal Document Specialists.
Your court papers will be in your hands and ready to file at the courthouse in as little as three days! We guarantee our work. Just ask us for a quote.
---
Article by Kenneth Diaz, Florida-Court-Forms.net © 2014 - 2016
You are here:
Home

>
Florida Child Support