Florida Divorce Procedures
Dissolution of Marriage Procedures in Florida
Florida Divorce Procedures:
Like any legal issue, the Florida courts depend on forms for all proceedings in a divorce. The Florida divorce forms and procedures are listed under section 12, which is the Florida rules of court as they pertain to family law. All of the necessary forms can be found online via the state website or through self-help agencies.
In addition, many document preparing agencies will help anyone fill out any necessary Florida divorce forms for a relatively small fee.
The good news for anyone filing an uncontested divorce in the state of Florida is that the forms are few in number and with the state guides, can be filled out somewhat effortlessly if the divorcing couple has worked out all issues.
However, it is recommended to consult an attorney if any issues arise that may not be apparent in the forms themselves.
Florida Divorce Procedures
The number of forms needed in a Florida divorce case changes based on the issues involved in the marriage. The following is a description of the most common divorce procedures in Florida.
Florida Divorce Procedure - Both Spouses Filing Together
When both spouses file together and have reached an agreement on all issues, a Simplified Dissolution of Marriage is appropriate.
This Florida divorce procedure is commonly called an Uncontested Divorce.
For a simplified dissolution of marriage, the forms are relatively few in number. Form 12.901(a) or the Petition for Simplified Dissolution of Marriage is the form used to petition the court to legally end a marriage.
This form must be signed by both parties in front of witnesses, notarized, and filed with the clerk of the circuit court. In addition to this form, the law requires a financial affidavit, notice of social security number, and a marital separation agreement in order to dissolve a marriage.
The financial affidavit, Form 12.902 (b) or (c), indicates all income and monthly payments being deducted from both party's pay each month.
This form is used to determine how much a person makes each month and what is being deducted from their pay by their employer.
Both spouses will have to fill out the affidavit and include it with the petition for dissolution of marriage. Additionally, Form 12.902(j), notice of social security number, needs to be filled out by each party to prove they have a social security number and list it for the court.
Finally, in a simplified dissolution of marriage, a marital settlement agreement has to be completed and furnished for the court.
The marital settlement agreement, Form 12.902 (f1)(f2)(f3) is used by both parties to indicate to the court the disposition of all assets, debts, and other financial settlements between the two parties.
In a simplified marriage, there are no children and no disagreements on the disposition of assets, debt, or other financial matters. If there are children or any disagreements, you must file using one of the other three Florida divorce procedures.
Florida Divorce Procedure - Only one Spouse is Filing
In a divorce where only one person is filing for divorce, there is property involved, and there are no minor children, Form 12.901(b)(2), Petition for Dissolution of Marriage with Property but No Dependent or Minor Child, is used.
This form is used to file the divorce and begin the proceedings and list all demands or desires the filer wants or gives up through the divorce.
After the form is filed, the spouse must be notified of the petition and given the opportunity to agree or disagree with the desires of the individual filing the petition.
Form 12.913(a) is used to provide the spouse a notice of action for dissolution of marriage. If a personal service is used, the spouse has 20 days to respond to the petition.
If the spouse does not respond to the petition in writing then the filer can fill out form 12.922(a) with the clerk of court, which is a motion for default.
This Florida divorce procedure will cause a final hearing to be set and the filer must notify the spouse of the hearing using the notice of hearing form 12.923.
If the spouse agrees with everything in the original petition, the divorce becomes uncontested and the notice of hearing form is used to let the spouse know of the final hearing for the uncontested divorce.
If the spouse files an answer or an answer and counter petition disagreeing with the original petition, then it becomes a contested case and must go to trial if the parties cannot come to an agreement.
With Form 12.901(b)(2) the filer also must fill out an Affidavit of corroborating witness, a marital settlement agreement for dissolution of marriage with no dependent or minor children, notice of social security number, a family law financial affidavit, and a certificate of compliance with mandatory disclosure.
As you can see, in a contested divorce, the list of Florida divorce forms gets longer and the information contains many unknowns. In this process, the court can order mediation and both parties should seek the advice and help of an attorney.
Florida Divorce Procedures With Minor Children
The most complicated cases normally involve children. Form 12.901(b)(1) and (b)(3) are the petitions for dissolution of marriage involving dependents or children.
This Florida divorce procedure is identical to the steps mentioned above and many of the same forms are used.
First, a Uniform Child Custody Jurisdiction and Enforcement Act Affidavit, Form 12.902(d) but be filed with information on the children.
Next, a child support guidelines worksheet, Form 12.902(e) must be done if a party is asking that child support be ordered in the final judgment.
The list of forms also includes a marital settlement agreement, Form 12.902(f)(1), but it is slightly different because it includes information on the dependent or minor children.
Finally, Form 12.995(a), or Parenting Plan, be included to list out who will take care of what in regards to the well being of the child.
This list and explanation of forms is not all inclusive as every Florida divorce case is different. These are the general forms associated with a Florida divorce.
Filling these forms out can be done by the parties submitting the divorce paperwork, but should be done with the guidance of an attorney or someone very familiar with the Florida divorce process.
Sponsored Advertisements:
Fully Interactive Divorce Forms Package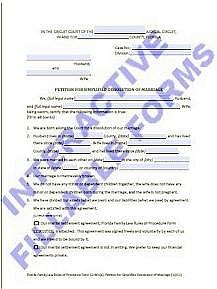 Uncontested Divorce Forms Combo
Florida Court Forms' Interactive Fillable Forms are valuable tools for the DIY Pro Se litigant. Just like our extremely popular web-powered instructions pages, these fully interactive forms include download links to all of the required & supporting forms and links to Florida divorce law statutes, court rules, and other valuable Pro Se resources.
Or you can save time and use our Petition Preparer documents preparation service instead. We can prepare a court-approved uncontested divorce forms packet for you after a brief telephone interview at a convenient time for you. Days, Evenings, or Weekends!


Affordable Legal Document Preparation Services:
Florida Court Forms' Petition Preparer Service
Have all your documents court-ready at a price you can afford.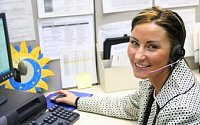 Our Petition Preparer Service can have all your documents professionally prepared after a brief telephone interview with our trained Florida Legal Document Specialists.
Your documents will be in your hands and ready to file at the courthouse in as little as three days! We guarantee our work.
Call us toll free: (800) 868-3010
---
You Are Here: Home > Divorce > Florida Divorce Procedures