Simplified or General Divorce
by Renee from St. Petersburg, Florida, Pinellas County

Simplified or General Divorce:

Should I file for for Simplified divorce or General divorce when the only children are involved are mine from a previous marriage, and we have none together?

We both have lived in Florida for years, we agree on everything.






Answer to Florida Divorce Question
Dear Renee,
You could actually take your pick, as far as which process to choose.
The instructions for the Simplified Divorce state:
You may file a simplified dissolution of marriage in Florida if all of the following are true:

• You and your spouse agree that the marriage cannot be saved.

• You and your spouse have no minor or dependent child(ren) together and the wife is not now pregnant.

• You and your spouse have worked out how the two of you will divide the things that you both own (your assets) and who will pay what part of the money you both owe (your liabilities), and you are both satisfied with this division.

• You are not seeking support (alimony) from your spouse, and vice versa.

• Neither you nor your spouse wish to have any financial information other than that provided in the financial affidavits.

• You are willing to give up your right to trial and appeal.

• You and your spouse are both willing to go into the clerk's office to sign the petition (not necessarily together).

• You and your spouse are both willing to go to the final hearing (at the same time).
Since your children are not "of the marriage" and are not common to both parties, then they do not come into the picture for child support.
If you cannot answer yes to any of these provisions for the Simplified Dissolution of Marriage process, then you will need to file one of the regular dissolution of marriage petitions.
There are always some considerations about whether to choose the general divorce or simplified divorce.
First, in the simplified divorce process, a marital settlement agreement must be filed along with the initial petition.
Since you are in agreement about everything, this should not be a real problem.
One thing to consider is the time it takes to fill out the Marital Settlement Agreement form, and whether it is worth your while. Another consideration is that in the simplified dissolution process both parties must appear at the final hearing. Again, this may not be a huge problem, since you are in complete agreement.
But, if one of you would prefer not to appear; doesn't want to take the time off work; has moved out of state; etc., then you should probably consider using the general divorce process rather than the simplified process. In the general divorce process, only the petitioner must appear at the final hearing; and there is usually no requirement that a marital settlement agreement be filed.
Notice:
We provide these
answers
to the general public and our website visitors as a means to further their online legal research. These answers are merely suggestions and should not be regarded as legal advice.

If you need legal advice, we recommend LagalMatch's free Lawyer Referral Service. Many lawyers offer free initial consultations. Get the legal advice you deserve.
Free Family Lawyer Referral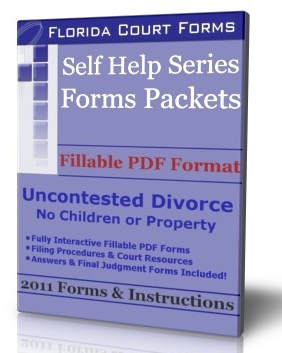 Fully Interactive & Complete Forms Packet for Divorce with No Children or Property. All forms are interactive and properly formatted in PDF and includes resources and filing procedures with easy to follow checklists, and much more.
Divorce No Children
See These Related Florida Divorce Pages

Back to Top
Florida Divorce
Florida Divorce FAQs
Florida Divorce Forms
Florida Divorce Questions
Florida Uncontested Divorce
Back to Florida Court Forms from Simplified or General Divorce