Florida Marital Settlement Agreement
Marital Settlement Agreement Instructions
Florida Marital Settlement Agreement:
Free Marital Settlement Agreement Forms, Help, Info, Procedures. When should the Florida marital settlement agreement form be used? A marital settlement agreement form should be used when a Petition for Simplified Dissolution of Marriage, Florida Family Law Rules of Procedure Form 12.901(a), has been filed and the parties have reached an agreement on all of the issues at hand.
This FL marital settlement agreement form should be typed or printed in black ink.
Both parties must sign the agreement and have their signatures witnessed by a notary public or deputy clerk.
After completing the Florida marital settlement agreement form, you should file the original with the clerk of the circuit court in the county where the petition was filed and keep a copy for your records.
You should then refer to the instructions for your petition, answer, or answer and counterpetition concerning the procedures for setting a hearing or trial (final hearing).
Florida's Marital Settlement Agreement
Preparing For Your MSA: Before proceeding, you should read "General Information for Self-Represented Litigants" found at the beginning of these forms.
For further information, see chapter 61, Florida Statutes, and the instructions for the petition which was filed in this case.
Special notes...
This Florida marital settlement agreement does not act to transfer title to the property.
Such transfer must be done by deed or supplemental final judgment.
---
Standard Legal Software
Divorce Legal Forms Software: Marital Separation Agreement.
---
Marital Separation Legal Forms Software


If you and your spouse have decided that a separation is best, it may be wise to put the details and expectations in writing with a Separation Agreement. The Standard Legal Software Separation Agreement outlines issues such as alimony, child support, real estate, debts, personal property, custody, visitation, etc. Easily create a comprehensive Separation Agreement.
Sponsored Advertisements:
Fully Interactive Divorce Forms Package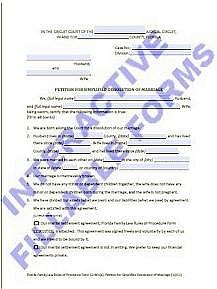 Uncontested Divorce Forms Combo
Florida Court Forms' Interactive Fillable Forms are valuable tools for the DIY Pro Se litigant. Just like our extremely popular web-powered instructions pages, these fully interactive forms include download links to all of the required & supporting forms and links to Florida divorce law statutes, court rules, and other valuable Pro Se resources.
Or you can save time and use our Petition Preparer documents preparation service instead. We can prepare a court-approved uncontested divorce forms packet for you after a brief telephone interview at a convenient time for you. Days, Evenings, or Weekends!


Affordable Legal Document Preparation Services:
Florida Court Forms' Petition Preparer Service
Have all your documents court-ready at a price you can afford.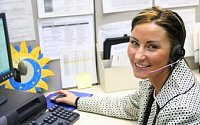 Our Petition Preparer Service can have all your documents professionally prepared after a brief telephone interview with our trained Florida Legal Document Specialists.
Your documents will be in your hands and ready to file at the courthouse in as little as three days! We guarantee our work.
Call us toll free: (800) 868-3010
---
You Are Here: Home > Divorce > Florida Marital Settlement Agreement