Florida Adoption Reunion Registry
The FARR & Other Adoption Resources
The Florida Adoption Reunion Registry: A primer. Find out all about the adoption registry and how it can be used to locate biological families in Florida. The FARR, as it is commonly called, was established in 1982 by the Florida legislature in order to give people the opportunity to reconnect with their biological family.
With national statistics listing that as many as one in ten children are adopted, adoption affects thousands of people across the nation and in the state of Florida.
FARR currently has more than 6200 people listed in the registry and sets up as many as 6 to 8 reunions a month.
FARR is currently overseen and operated by the Florida Department of Children and Families.
The goal of FARR is to connect adopted people with their biological families. Adoption happens for many reasons and in some cases; time does heal some emotional wounds. Many adults and children at one time or another become curious about their biological relatives.
Florida Adoption Reunion Registry
The Florida Adoption Reunion Registry can help people find that link and is an excellent resource to consider.
How Does FARR Work
Anyone associated with an adoption that is associated with Florida can be in the Florida Adoption Reunion Registry.
This list includes adopted adults, birth parents seeking a child, birth siblings separated, birth aunts and uncles seeking a niece or nephew, biological grandparents, and adoptive parents on behalf of an adopted child.
Anyone seeking to enter the registry initially fills out an application that includes a one-time $35 dollar fee. This fee is waived if the applicant can give proof of financial hardship such as unemployment enrollment, social security income, welfare, etc…
Any updates after the initial application cost ten dollars. FARR works by matching two or more people affected by an adoption in Florida. The database is a passive product that does not actively search for people.
All it does is match people to others currently in the database. If a match is made, the Florida Department of Children and Families will get both parties in touch with each other.
International Soundex Reunion Registry (ISRR)
In addition to the Florida Adoption Reunion Registry, any applications mailed from the Florida Department of Children and Families include forms to list information in the International Soundex Reunion Registry (ISRR).
Anyone searching for relatives never identified due to adoption needs should understand that FARR is not the only reunion registry in existence. Many states have registries and there is an international registry in existence with all of the same goals (listed above).
Other Reunion Registry Resources
In addition to Florida Adoption Reunion Registry, the Department of Children and Families has other resources for anyone associated with adoption.
Florida Post Adoption Services Unit
For instance, there is a Florida Post Adoption Services Unit. This unit helps adopted adults obtain non-identifying information such as medical and social history. The amount and type of information depends on the method of adoption and where they came from.
If a private agency was involved in the adoption process, the private agency may need to be contacted in order to get the records. The unit does not charge a fee for the information, but if a private agency or attorney was used then fees may be charged.
Florida Adoption Information Center
Another resource for anyone hoping to reunite with biological family is the Florida Adoption Information Center.
This center can be contacted for information on the International Soundex Reunion Registry, other state operated reunion registries, local search and support groups, and even information provided by county courthouses.
The Florida Adoption Information Center is a great Florida adoption resource that has helped more than 130,000 people since its formation in 1994.
After Applying to the FARR
So what happens when you send an application to the Florida Adoption Reunion Registry? Currently many people ask this question in reference to the Florida Adoption Reunion Registry. After the application mentioned above, along with the 35-dollar fee and proof of identification, is mailed to the registry, the verification process begins.
Before anyone can be added to FARR, the Department of Children and Families will verify and do a search on all records surrounding the application. This process can take several months depending on how many agencies need to be contacted and how the adoption was filed.
After the verification process is complete, the name of the person on the application will be entered into FARR and a notification letter will be sent. If there is a match then letters contacting all matched parties are sent out to notify each person.
Additionally, the contract allows the individual filling out the application to request non-identifying information of related family members. Once verified, all of that information will be sent to the individual making the application.
For birth parents, the only information they are allowed to receive is a 3-month date range of when the adoption was finalized, the state where the adoption papers were filed, and the name of the attorney on record for the court proceedings.
Overall, registering in FARR is a great way to find any biological relations severed by adoption. While FARR is not the only place to find information, it is one of the best and is a central state-run program specifically designed for the purpose of reuniting families.
---
---
Self Help Guides

---
Florida Adoptions

Grandparent, Stepparent & Family Adoptions in Florida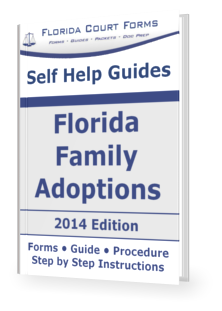 The Self Help Guides' Florida Family Adoptions includes updated information, new custom forms, and the processes & procedures you will need to adopt an extended family member in Florida.
Suitable for Grandparents, Stepparents, Aunts & Uncles, and Cousins who would like to adopt a child or children related by blood.

This self help guide includes interactive forms, sample adoption petitions, and instructions on how to successfully complete a Family Adoption in Florida.
Read more...
---
Legal Documents Preparation Services

---
Florida Court Forms' Petition Preparer Service
Your legal documents ready to file at a price you can afford!

Our Petition Preparer Documents Service can have all your documents professionally prepared after a brief interview with our trained Florida Legal Document Specialists.
Your court papers will be in your hands and ready to file at the courthouse in as little as three days! We guarantee our work. Just ask us for a quote.
---
You Are Here → Homepage › Adoption › F.A.R.R.