Want to adopt your grandson, but without a lawyer?
Have a niece, nephew, or cousin you want to adopt?
---

Family Adoption in Florida

---
A Step-By-Step Do-It-Yourself Guide To Adoptions by Extended Family Members in Florida
FLORIDA SELF HELP GUIDES
by Florida-Court-Forms.net
Family Adoptions in Florida

The Complete Step-by-Step DIY Guide. Published by Florida-Court-Forms.net, this 100+ page step by step guide is best known for it's easy to follow instructions and commentary by experienced Florida Legal Document Preparers. Available e-book format, this is the only guide you will need to file for Adoption by an Extended Family Member in Florida.
Easy to follow step by step instructions.
All the required & supporting forms.
Filing procedure and checklists.
List of government and internet resources.
Proven forms not found anywhere else.
Easy to understand and written in plain English.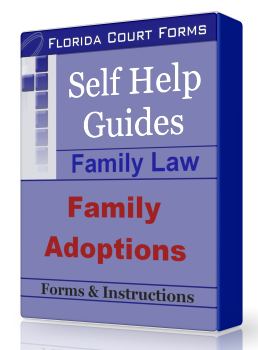 Florida Family Adoptions includes updated information, new custom forms, and information you will need to adopt an extended family member.
In Florida, many families, grandparents and other family members have taken care of their relative's children since birth or for reasons ranging from emotional to practical circumstances. Florida law generally allows family adoptions as long as the best interests of the child are upheld and all proper consents are obtained.

---
Get The Family Adoptions Self Help Guide
---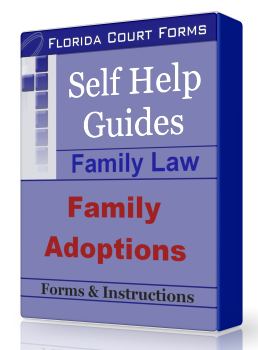 E-book $9.95!
---
OTHER PROFESSIONAL SERVICES
---
The Petition Preparer Service
The Petition Preparer Service for Family Adoptions in Florida can have all your family adoption court documents professionally prepared with just a brief live interview. We have reduced our normal fee for web customers to just
$250.00
!
Your documents will be in your hands and ready to file at the courthouse in 7 days or less! We guarantee our work.

---

Order Now!

---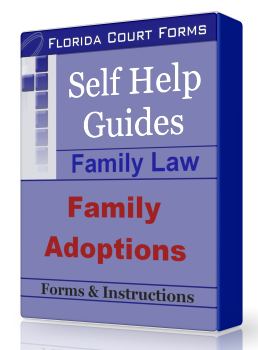 Adopt your grandchild, niece, or nephew by filing yourself. The Complete Guide to Family Adoptions in Florida. Save hundreds on attorneys fees!
---