Back Child Support & Parental Rights
by Holly from Crawfordville, Florida, Wakulla County
Child support arrearage and parental rights revocation.


The child support is $54,000. Never paid child support and had parental rights revoked.
He abandoned the children several years ago. No contact, no support.
Can I sue him for the arrearages up to the time his rights were revoked or by taking him to court for revocation of his parental rights, did I lose that as well?
Answer to Florida Child Support Question
Dear Holly,
Yes. Generally in Florida, child support arrears are owed until paid; and he owes up until the time his parental rights were terminated.
A child support order tells the parents what they must do to support their children.
Enforcing child support orders means getting the parent to do what the order says.
The following is stated on the Florida Department of Revenue's
website
:
Some of the ways we get parents to pay are:



Notify the parents when they miss payments


Suspend Florida driver licenses


Take IRS tax refunds


Take tax refunds to pay past due support


Take Florida Lottery winnings if over $600


Take support payments from unemployment and worker's compensation


Tell employers to take payments from paychecks


Place liens on the parent's car, boat, or other property


Report past due support to credit agencies


Place a hold and take money from bank accounts


Take the case to court because the parent did not do what the order says


Work with the court to issue a writ, also known as an arrest warrant.



If you would like to see if there is a writ on your case, please use the Department of Revenue's Writ Search page. Parents can avoid these actions by paying their child support and doing what the

order says.
Department of Revenue's Contact Information
Florida's Child Support Enforcement Customer Service can be contacted toll free at 1-800-622-KIDS (5437) from 7:00AM to 7:00PM EST, Monday thru Friday.
To obtain information about payments and collections, the Department's Automatic Payment Line (APL), 1-800-226-6777, is available 24 hours a day, 7 days a week, and the State Disbursement Unit's phone line at 1-877-769-0251 (toll free) is available during business hours.
Dade County's Child Support Enforcement Customer Service phone number is
(305) 530-2600
.
Manatee County's Child Support Enforcement Customer Service phone number is
(941) 741-4039
.
The State Program Office mailing address is:
The Florida Department of Revenue, Child Support Enforcement,
P.O. Box 8030,
Tallahassee, FL 32314-8030.
Legal Advice and Florida Court Forms
Notice: We provide these answers to the general public and our website visitors as a means to further their online legal research. These answers are merely suggestions and should not be regarded as legal advice.
If you need legal advice, we recommend LagalMatch's Lawyer Referral Service. Many lawyers offer free initial consultations. Get the legal advice you deserve.
---
Florida Court Forms' Petition Preparer Paralegal Service
Your legal documents ready to file at a price you can afford!
---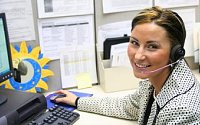 (800) 868-3010
Our Petition Preparer Service can have all your documents professionally prepared after a brief interview with our trained Florida Legal Document Specialists.
Your court papers will be in your hands and ready to file at the courthouse in as little as three days! We guarantee our work. Just ask us for a quote.

---
Answer provided by Kenneth Diaz, (800) 868-3010, Florida Court Forms © 2015
Kenneth has been a Florida Legal Document Preparer since 1998. Currently, he publishes and writes content for legal websites and does freelance paralegal work through referrals only.

---